STEP 2. Start Learning: Free & Low-price Apps
This is the longest period when you build an entire new catalog of information in your brain. There is no magic – it simply takes time and practise.
Babbel. This App offers the best combination of quality and price on the market. When you get a Babbel subscription via GPS Dutch (by clicking on this link or the illustration on the right), you get:
20% Group Discount
FREE "Q&A" events in our meetup group. Do you have a question while learning with Babbel? – get the answers by our dedicated tutors.
FREE "Meet your Apps and Bots" events in our meetup group. You can see how Babbel works before making a purchase. The demonstration is in English with the full access provided by Babbel. On top of that, you can see how other free Apps and Bots can enhance your learning experience.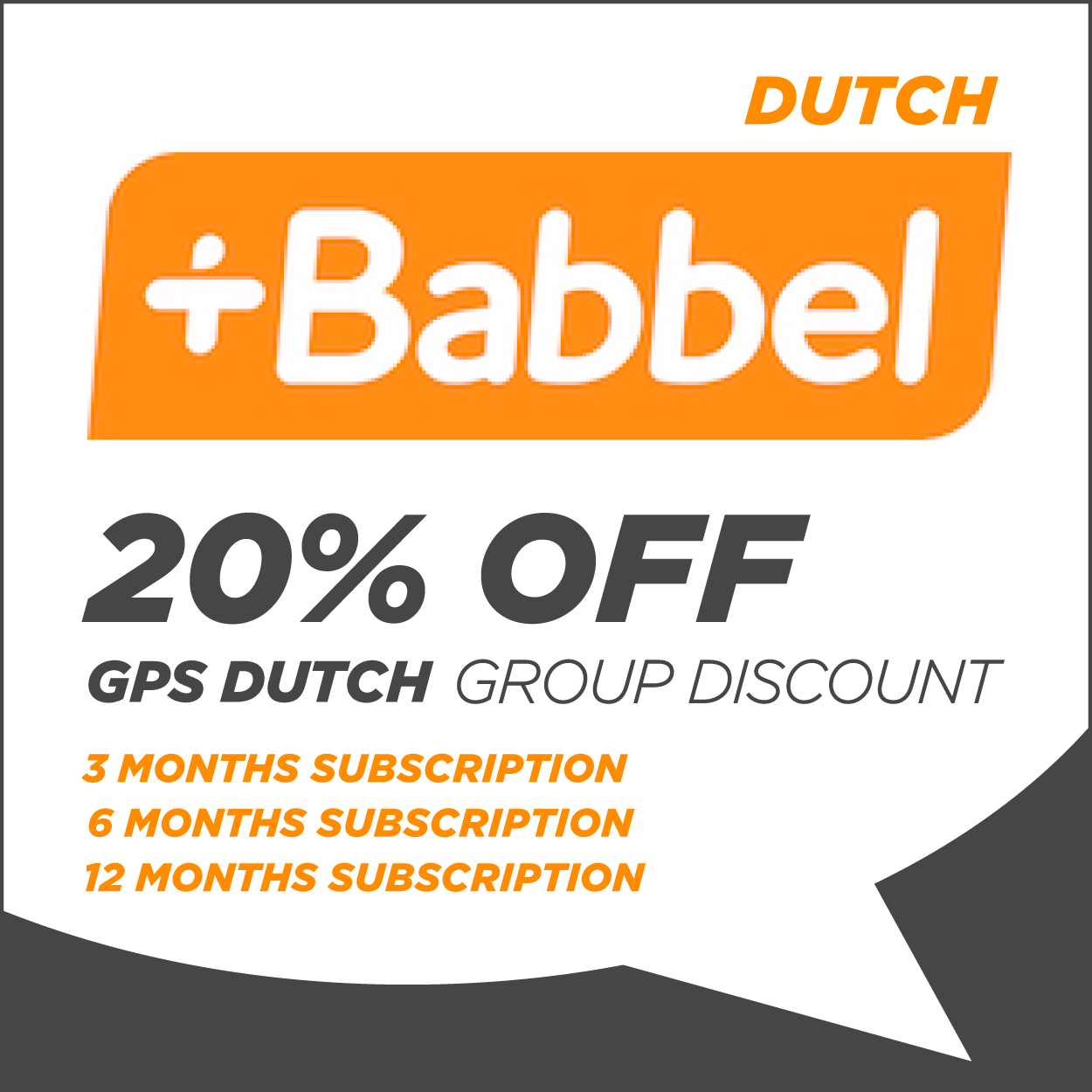 The resources below are good as an extra since they won't cost you anything. We don't mention others for a reason – not all free stuff is worth your time, and not all expensive stuff is worth your money. Here are few to give a try:
STEP 3. Wrap it Up with a Study Book
Nederlands in Gang is a complete functional method to get your Dutch skills up to the Inburgerinsexamen level / A2 CEFR. Take a look at its 18 chapters of comprehensive content that covers grammar, pronunciation, spelling, sentence structure, etc. The book covers every-day situations, very similar to exam samples. All authors: Berna de Boer, Margaret van der Kamp, and Brigit Lijmbach are teachers at the Language Centre / Groningen University.
STEP 5. Getting Ready for the Exams
We organised the information based on the resources available on the DUO official website as of January 11th, 2017. You may want to check the current status of the information online, or contact DUO.
Schedule Exams
You can schedule exams with DUO online, but you will need a DigiD number.
There are 5 locations where you can schedule your exams:
STEP 6. Never Stop Learning!
We will introduce new resources, tools, tech gadgets. The information is crowd-sourced, so we welcome your input.
Join our meetup group to find local events.
Subscribe to our monthly newsletter to be informed about new learning resources and initiatives: